Cape May County RACES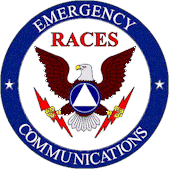 Radio Amateur Civil Emergency Service
Cape May County, New Jersey
Cape May County RACES
c/o Cape May County Emergency Management Communication Center
1370 Yorktown Rd.
Cape May County Airport
Rio Grande, NJ 08204
609 600-5055 Ext. 5078
Email users please type RACES in the message subject.
E-Mail: cmcraces2022@gmail.com
——————————————————————–
Bulletin Board
It is with heavy heart and great sadness that we post this sad news that member Edward Taylor N2EWT has become a SK on September 19, 2022.
Next RACES Test Net will be October 31, 2022, at 19:00 HRS on 147.240 Pl 146.2
—————————————————————————————–
Next RACES meeting October 26, 2022, at 19:00 HRS with a Class
Light dinner will be served at 18:30 HRS
The RACES Office Door:
Will be locked at 19:00HRS.
We will have a person on 146.415 PL 203.5. If you come to the meeting or any other event and the door is closed, just call N2CMC
October 26, 2022, ICS Update Classes
Last update: 09/27/2022